Invest is a feature available in both the "Greenlight Max" and "Greenlight + Invest" plans. In order to research stocks & ETFs and buy fractional shares with as little as $1, upgrade your plan to Greenlight + Invest or Greenlight Max.
Quick links for this article:
How to set up Investing for Parents:
Investing for Parents is an easy, flexible way to invest for your kids' futures. Only the primary parent on the account can currently make trades on the Investing for Parents platform.
To set up your Investing for Parents brokerage account:
Scroll down on your Parent Dashboard.
Click the "Investing for Parents" module.
Follow the prompts to set up your Invest Profile, and accept the Terms and Conditions.

You now have full access to start investing for your kids' futures with Greenlight!
Questions about Investing for Parents? Learn more about the feature here.
How to set up your kids' Invest Profile(s):
Invest is a feature in both the "Greenlight Max"and "Greenlight + Invest" plans, but, to unlock the investing feature, the Primary Accountholder for your Greenlight plan must complete each kids' "Invest Profile."
To set up investing for your kids:
Navigate to your child's dashboard.
Click on the "Investing" tile.
Follow the prompts to set up the profile.
At the end of these question prompts, accept the invest Terms & Conditions. (If you've already accepted the T&Cs for yourself or another child, you won't need to do this again.)
Your child now has full access to "Investing for Kids."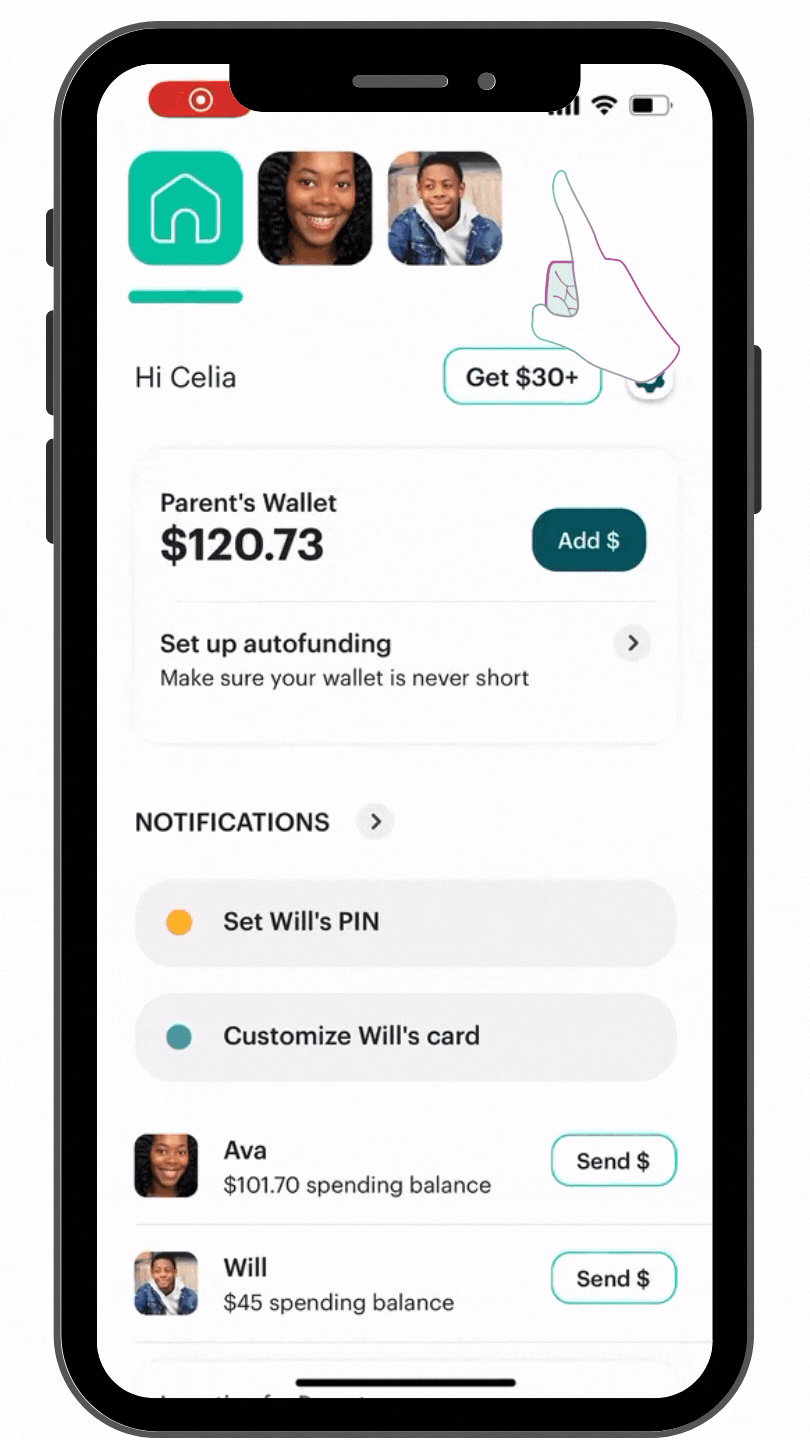 How to transfer funds to Cash to Invest:
Once you've set up your Invest Profile and have accepted the Terms & Conditions, you and your child can begin researching stocks and ETFs. Before placing a trade, you must make sure there are funds within your child's Cash-to-Invest balance. To do this:
Navigate to your child's dashboard and tap the "Investing" tile.
Tap "Cash to Invest" at the top of their Invest dashboard.
Tap "Move $ In"
Select the amount of funds you'd like to move in.
Select where you would like to transfer money "from."
Tap "Move Money."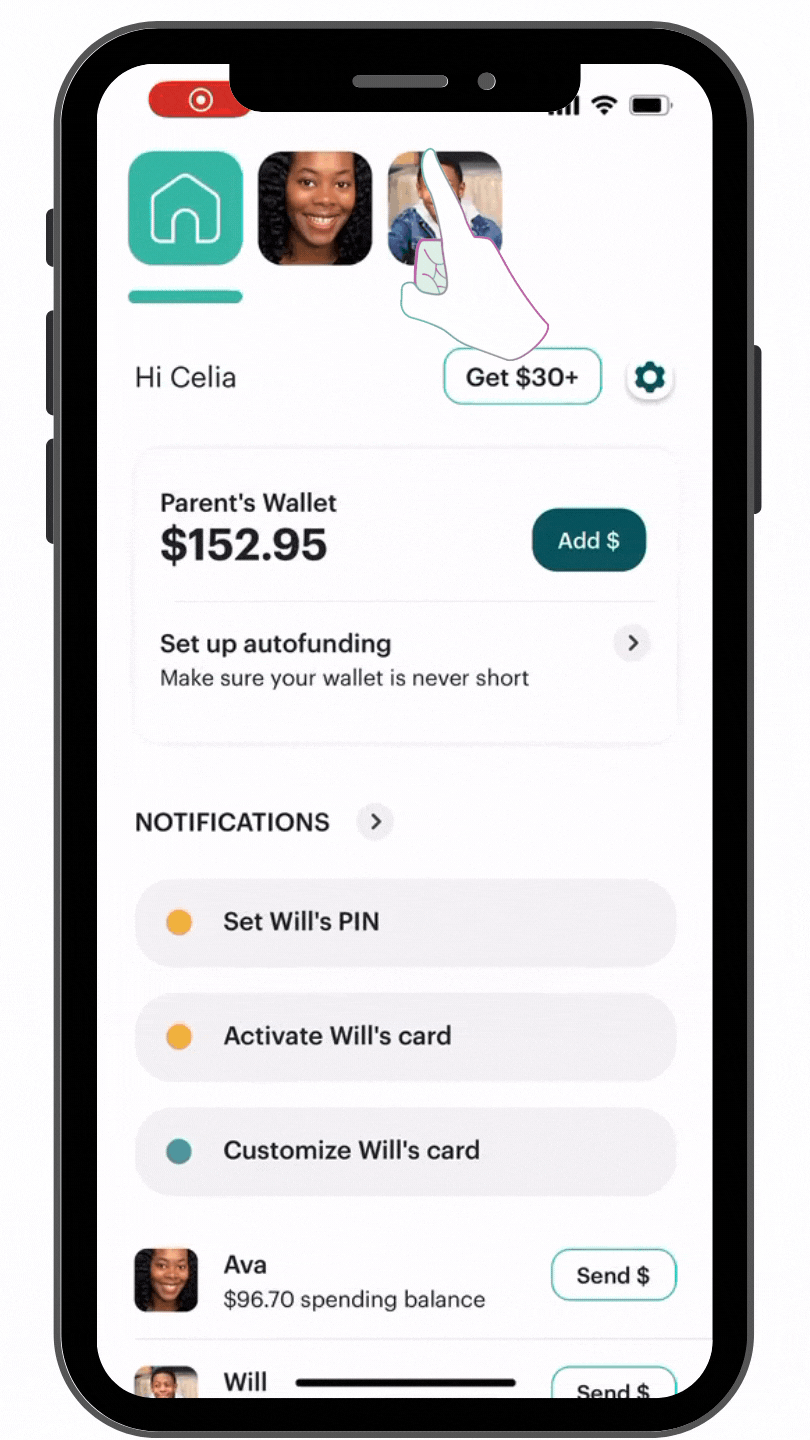 How to explore Stocks & ETFs available within Greenlight:
Greenlight + Invest and Greenlight Max users can purchase fractional shares of over 4,000 real stocks and ETFs. To start exploring these stocks and ETFs in your Invest dashboard:
Navigate to your child's Invest dashboard by tapping their "Investing" tile.
Scroll down to the section of the dashboard labeled "Investing Options."
Tap either "Company Stocks" to explore stocks or "Exchange Traded Funds" to explore ETFs.
Use the search bar to search for ticker symbols specific to a stock or ETF you'd like to research, or click directly through stocks and ETFs that appear by tapping the arrows next to their name.
All our stocks and ETFs include data on their past performance over time, financial details, and more to aid your research. Our "Learn Mode" (the purple lightbulb icon in the bottom right corner) can be turned on and off to hide and reveal helpful guidance on how to interpret the financial data.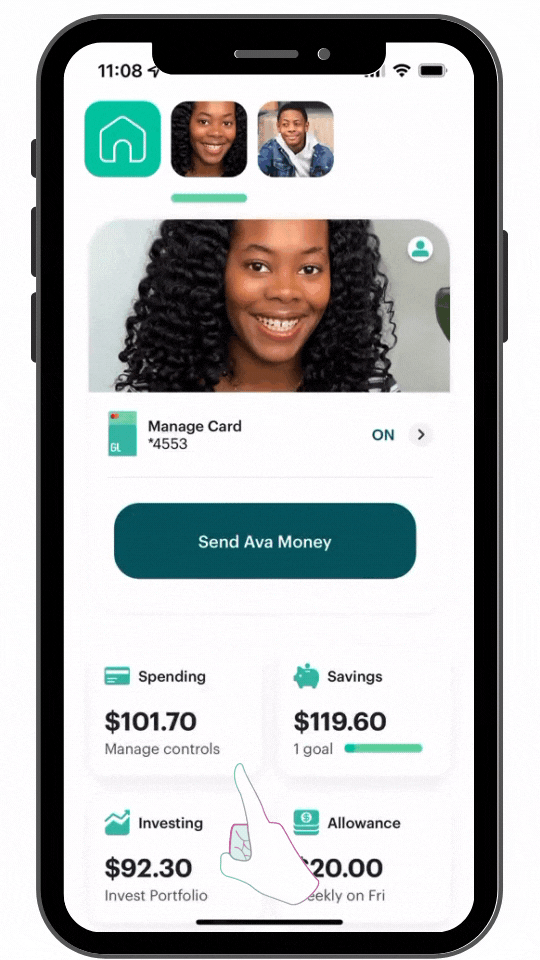 How to make a trade starting with just $1 :
Within the Invest dashboard, navigate to the stock or ETF for which you'd like to place a trade.
Tap the "Buy" button at the top of your screen.
Select the amount of money you would like to invest. (You can also purchase a custom amount by tapping "Other" and inputting the exact amount you'd like to purchase. The minimum amount is $1!)
Tap "Review Order."
Tap "Place Order."
If the primary Parent on the Greenlight account has placed the trade, the trade will be placed to be executed as soon as possible (this may be at the start of the next trading day, if the market is closed.)
If your child has requested the trade, the primary parent on the account will need to approve the trade from their Parent Dashboard in order for the trade to be officially placed.
Congratulations! You've made your first trade. Your child can now monitor their investments from within their Invest dashboard.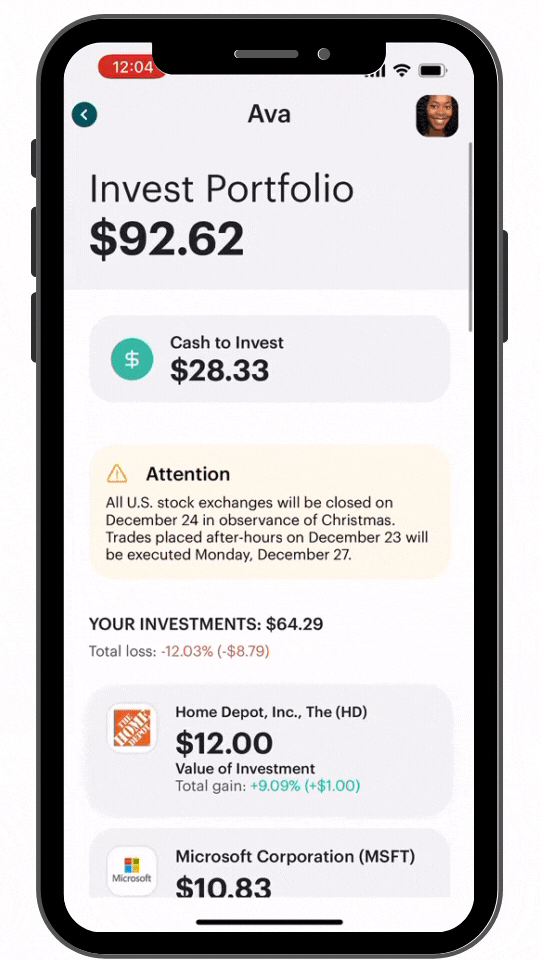 How to access educational investing videos:
1. From within the "Investing" tile, scroll down and tap the "Become a better investor" module.
2. Scroll to explore the educational topics, and tap the "play" button on any video to learn more!
How to upgrade to a Greenlight plan with the Invest feature:
Open your Greenlight app

Navigate to your Settings by tapping the gear icon in the top right of your Parent Dashboard

Tap "Account" then select My plan

Choose the plan for you! "Greenlight + Invest" and "Greenlight Max" both have access to investing features.
What is the difference between Investing for Parents and Investing for Kids?
With Greenlight's Invest feature, the primary parent as well as each child on the Primary Parent's Greenlight account can have their own "Invest Profile" and portfolio. While the primary parent can see their own portfolio, as well as the portfolios for each of their kids, kids can only view and make trade requests within their individual investing portfolios. All trade requests placed by kids must be approved by their parent before the trade is placed by the parent.
Parents can make investments within their own Investing for Parents portfolio to save for their kids' futures, and parents can also place trades on behalf of their kids within their kids' Investing for Kids accounts.
*Please note: All investing accounts set up within the Greenlight app are brokerage accounts in the Primary Accountholder's name. For more information, click here.